Scoreboard Lacrosse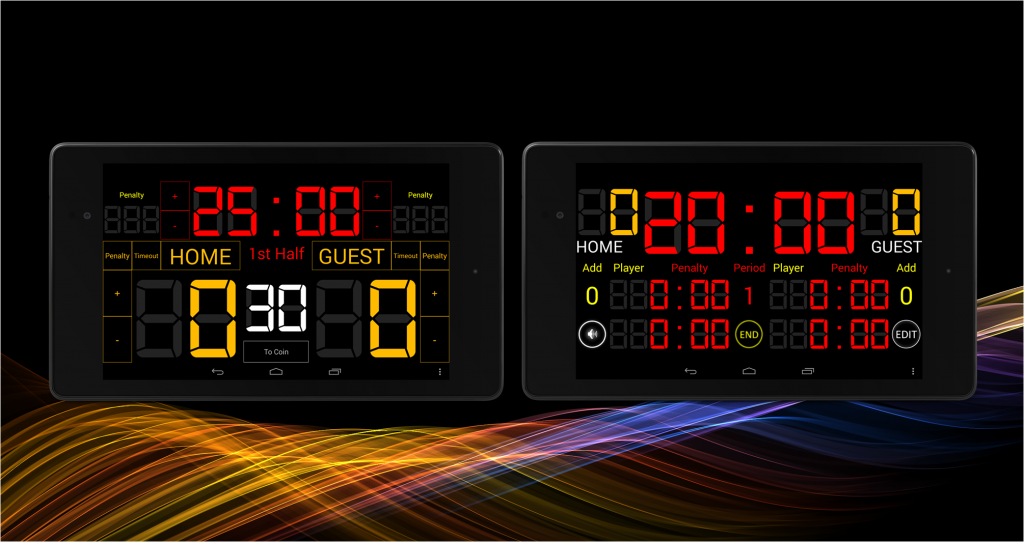 It's scoreboard app for lacrosse.
Font size is displayed in the full scale of a screen. And buzzer is large volume.
This scoreboard app is simple design and easy to use!
You can remote control at Bluetooth.
Please download Scoreboard Remote(Free).*
This app is free version
-Ads
-Bluetooth to connect 1-on-1(Currently, bluetooth to connect 1-on-7 for beta testing)
Features
* Timer
* Scoreboard
* Penalty
* 30sec timer
* Whistle
* Coin toss(Head or Tail)
* Timeout counter
* Support 7 inch tablet
* Support 10 inch tablet
* Remote control at bluetooth
Instructions
-Tap Timer: Start/Stop
-HOME or GUEST button: Change Team Name or Team Color
-Timeout button: Start Timeout
-Penalty button: Add penalty
-Tap penalty timer: End of penalty
-Sound button: Sound the Whistle
-Coin button: toss Start/Stop
-Menu button: Functions for Futsal
Other Features
-At the start, reset function can not be used.
-Max is 99 minutes 59 seconds.
-Less than 1 minute, the display in 1/10 seconds.
-Menu button, you can switch sides, reset score, reset timer, reset all, settings.
Recommended use:
-Lacrosse
Get on Scoreboard